It's only mid-August and conspiracy theories are in full bloom in the nation's capitol. 
The "Gotcha" speculations are so profuse they outnumber human droppings in Nancy Botoxi's Scat Francisco district.  Someone should create a spreadsheet to keep track.
Most recently is Jeffrey Epstein's dubious "suicide." The week before was the left blaming President Trump for the tragic mass shootings in El Paso and Dayton. 
Ongoing is the spurious impeachment proceedings by unhinged Democrats in the House of Representatives, both the "formal" and "informal" variety. 
I asked my Android personal digital assistant to define "informal impeachment proceeding" and it displayed an image of Jerry Nadler in Bermuda shorts sipping a Mai Tai.
Finally, there is Episode 4, Act 3, Scene 2 in the Russian Collusion Illusion.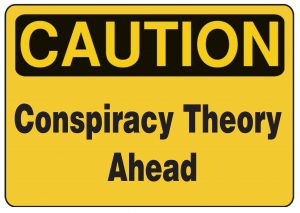 Today there's another "hairy" conspiracy that has so far gone unreported, and Dean Riffs has the exclusive details.
Donald Trump will soon be accused by rival presidential campaigns, the mainstream media and the loopy staff of Morning Joe and Rachel Maddow of "scripting" front runner Joe Biden's gaffes through a nefarious new mode of sensory processing disorder.
Code named "Joe Blows," the diabolical sensory processor will be blamed for a string of recent Biden verbal blunders, including:
"We choose unity over division. We choose science over fiction. We choose truth over facts…"  
"Poor kids are just as bright and just as talented as white kids…"
"Those kids in Parkland came to see me when I was Vice-President." NOTE: Parkland shooting happened in 2018 – Joe Biden's term as Vice-President was over January 20, 2017.
Using a cutting edge process pioneered by Russian intelligence, reportedly Orange Man Bad has managed to implant a form of nanotechnology into Biden's hair plugs that allow the president and his campaign team to inject pre-written messaging into Biden's speeches.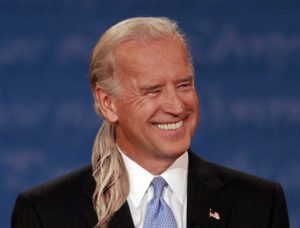 The result:  the Democrat front-runner sounds like a senile, over-the-hill presidential candidate rather than the charismatic, energetic, hair-sniffing dynamo he really is.
The reaction from the president's 2020 Democrat chew toy opponents was immediate:
"This is a very dangerous president who makes Americans' hair stand on end."  – Spartacus
"If you ask me, he's a racist, a white supremacist and a bully.  The president's candidacy is hanging by a hair."  – Robert Francis O'Rourke from his skateboard
"Look, I don't want to split hairs and it gives me no pleasure to say this, but I think all of the evidence out there suggests that we have a president who is a racist, a xenophobe, and has just managed to avoid impeachment by a hair." – Bernie "Back in the USSR" Sanders
"He's changing the conversation, and if we allow him to do that we will tear our hair out rather than focus on real solutions for real Americans." – Beto O'Rourke again, but this time standing on a diner counter in someone's chili and crackers.
High level sources reveal that Trump got the idea of hijacking Biden's thought processes from son Baron after father and son watched Bruce Almighty together.
Thanks for reading Dean Riffs. Welcome to all those who love American liberty, free enterprise, and who believe God has blessed our country. 
Photo sources: c-fam.org, politics.theonion.com, Movie Clips
Copyright 2019, Dean A. George©