Introducing 3D News – Dean's Daily Digest: A daily distillation of fake news, conservative shaming and liberal illogic reported by the mainstream media.
MONDAY, JANUARY 29
A giant sucking sound was audible emanating from the nation's capitol Monday and no, it wasn't a Democrat tax bill or the usual strange noises coming from Al Franken's former Senate office.
Instead it was the sound of the swamp being drained, and it's a sound Americans are going to hear often the next few weeks.
FBI Deputy Director Andrew McCabe, better known as "Andy" to secret society types, was escorted out of FBI headquarters Monday a day after FBI director Christopher Wray reviewed an inspector general report on how the bureau handled internal investigations of the 2016 presidential election.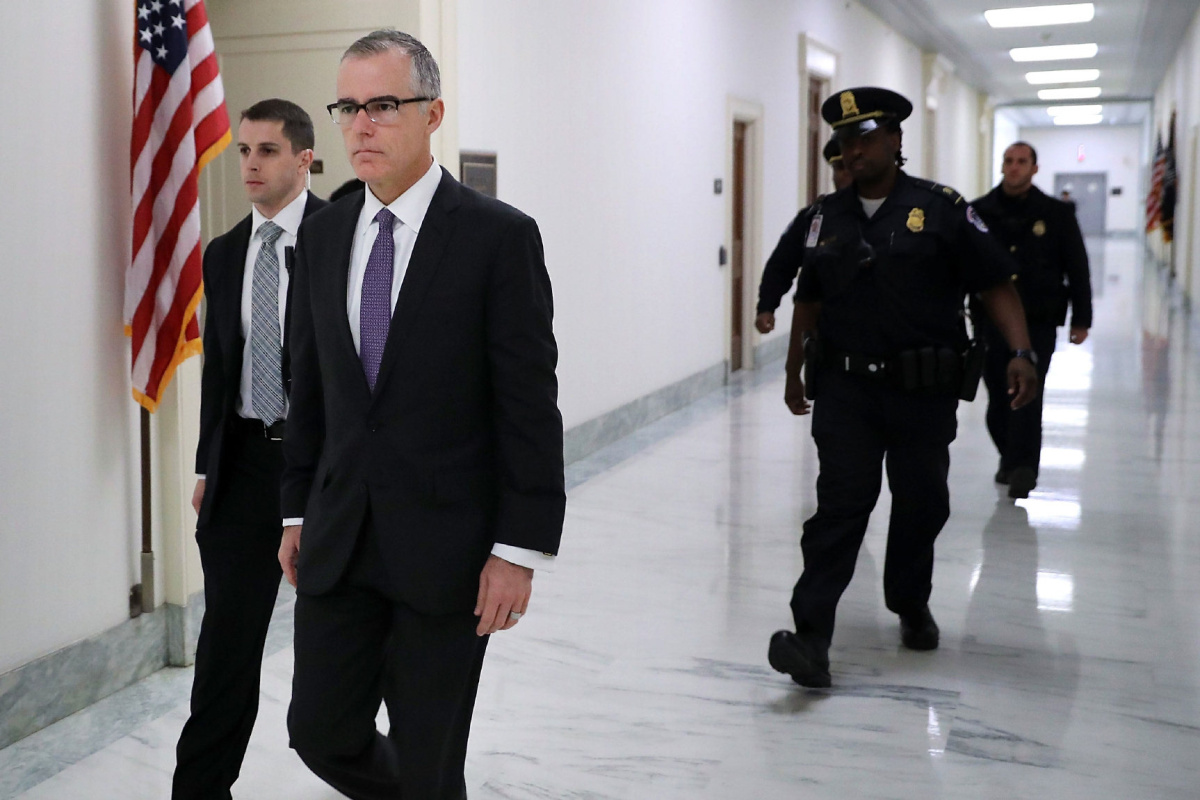 McCabe played a key role in the FBI investigation into Democratic presidential nominee Hillary Clinton's use of a private email server – despite the clear conflict posed when it became known that his wife accepted over half a million dollars in campaign contributions from a close Clinton ally.
Being the boy scout he is, McCabe later recused himself – a week before the election.
McCabe also played a pivotal role in the investigation into alleged contact between members of the Trump campaign and the Russian government. How big a role? Presumably that's what in the four-page report Republicans on the House Intelligence Committee voted to release Monday.
The classified memo outlines alleged abuse of the Foreign Intelligence Surveillance Act (FISA) by senior DOJ and FBI officials while investigating suspected Russian collusion by Trump campaign officials.
As we mentioned in the post The Russian Collusion Boomerang, those swamp creatures laying traps and snares for the President they call a disgrace are now finding themselves hopelessly entangled in their own deceit and duplicity.
Also on Monday a group of Hollyweird political activists gathered for the aptly named "People's State of the Union" in NYC's Town Hall. You know, like the "People's Republic of Korea" and the "People's Park" at UC-Berkeley.
Emceed by anti-Trump critic Mark Ruffalo, aka the mild-mannered Bruce Banner in comic book movies like Iron Man and Thor, many of the perpetual gloom and doomers in attendance were secretly hoping all the vitriolic Never Trump banter would prompt the mild mannered Banner to morph into The Incredible Hulk – presumably so he could chase down the president and smash him with an over-sized people's fist.
Unfortunately for them Hulk didn't materialize and they had to settle for Michael Moore instead.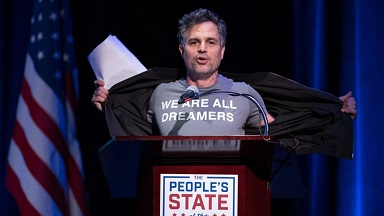 "We must remove and replace the system and the culture that gave us Trump in the first place," Moore told the Hollywood full-of-it faithful hoping for the second coming of Saul Alinsky.
By "the system" Moore undoubtedly meant the Constitution and Electoral College, and by the culture he meant things like illusory white male privilege, voter ID laws and enforceable borders – like the walls many Hollywookie types live behind in the People's Republic of California.
There were also repeated references to Trump supporters being the "ugly underbelly" who elected him. Just a hunch that term was inspired by many celebs who spend an evening with Michael Moore.
Thanks for reading Dean Riffs. Welcome to those who love American liberty, free enterprise, and who believe God has blessed our country. For those who believe in open borders, safe spaces, and who think free speech is hate speech, move on – there's nothing here for you to see.
Sources: dailycaller.com, breitbart.com, variety.com, foxnews.com
Photo source: thestar.com, cdnnewsday.com
Copyright 2018, Dean A. George©