Recently I said goodbye to my first love.
Shortly after 2 pm on June 5th Peggy Joyce King was ushered in heavenly style to a new address way north of where she lived the past eight decades.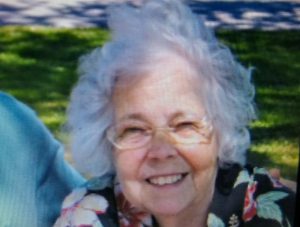 Mom was what used to be called a P.K. – Preacher's Kid.  It was a title she wore with pride as an adult, although growing up it was never easy being a P.K.
Mom's father was a Baptist minister that served a number of small churches throughout Indiana.
Grandpa used to say as a minister you went where you were called, and apparently he was called a lot because Mom went to seven different Indiana high schools over four years.
She attended schools everywhere from Kendallville and Auburn in northern Indiana, to Bunker Hill in north central Indiana, and a few others in between before the Rev. Raymond Finkbiner family settled in Wirt, a small community near the Ohio River town of Madison, Indiana on State Road 7.
Even though she met our father there, Madison was not her favorite stop on the Finkbiner Express.  That would be Kendallville, a small community 25 miles north of Fort Wayne.
What Mom said she most enjoyed about Kendallville was she wasn't treated like a P.K., but just like any other kid.
What kid doesn't want that?
It was at a small Baptist church in downtown Kendallville where Peggy Finkbiner first played piano for a church service at age 17.  That was the beginning of an unofficial calling that lasted roughly 65 years with Mom playing piano at various Baptist church services until her early 80's.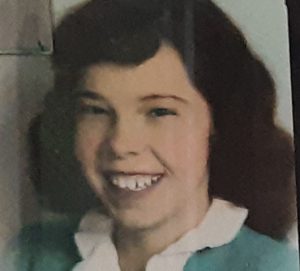 Music was always a big part of her life and one of her favorite high school memories in Kendallville was going to a friend's house on Saturday nights to listen to a Top 40 radio program featuring big band and swing music.
This was Mom's rebellious period because her mother forbade her from listening to the radio show at home due to one of the sponsors being – gasp – Chesterfield cigarettes.
My sister Dee (DeDe to her big brother because "Deanna" was too phonetically challenging as a four-year-old) and I both love music today thanks to Mom – including those energetic, boisterous 40's bands and possibly the best TV theme song ever: Peter Gunn.
Another legacy Mom left us was the joy of laughter.  She had an infectious laugh and once it got going her laugh was like the Energizer Bunny – it kept going, and going, and…
The officiating minister at her June 10th Celebration of Life service shared during his remarks he once saw Mom burst into a spate of giggling that lasted 20 minutes.  "I thought she was going to have a stroke," he recalled with a smile.
Yes, Mom taught us to laugh and laugh often – "It's good for what ails you," she'd say.  And she was right!  Whatever Mom found funny, she knew that if she laughed, eventually the world would quit taking itself so seriously and laugh with her.
It couldn't help itself!
As a long-time resident of the Otterbein Senior Community (formerly the Franklin United Methodist Home), we used to tell her that sharing joy and kindness was her personal ministry, and she should share it with other residents that might need a smile or encouraging word.
Happily she did and it was appreciated – by both residents and staff.  Several hospice workers and Otterbein staff have shared with our family how they looked forward to their visits with Mom because she was always smiling and laughing.
We also inherited our love of reading from Mom.  Until she was diagnosed with Alzheimer's several years ago, she loved to read.
In elementary school I read almost every famous American biography the library had and she always had the time to listen if I wanted to share book insights with her.
Little did I know at the time she was prepping me for writing opportunities as a book reviewer.
My sister and I still enjoy reading, and while our first and second grade teachers taught us to read, it was Mom that encouraged it and cheered us on.
The most important thing we learned from our mother was to love God because He loves us.  One Christmas when we were young Mom and Dad gave us Bibles for Christmas.  DeDe's was white and mine was black.
Wish I could say I still had that Bible, but thanks to Mom I know the wisdom and guidance written between those pages.
Because of the gospel story and God's promise that eternal life is available to all who believe that Jesus is the Way, the Truth and the Life, we have the comfort at difficult times like these of knowing that our time apart from loved ones is just temporary.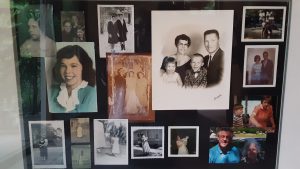 Mom believed and so do we that when we die, those that accepted Jesus Christ as their Lord and Savior receive forgiveness of sins and the promise of eternal life.
Meaning that when we die we not only see Christ face to face, but also family and friends who preceded us.
This gave us comfort when Dad passed three Easters ago, and it gives us peace and grateful hearts today.
So Mom has a new address and a new heavenly mansion just for her.
She never lived in a mansion during her 87-plus years here, but it does our hearts good to know she is living in one now.
So this isn't goodbye, Mom.  We'll see you again, and until then, we know you'll enjoy praising God, playing hymns of praise on the piano and laughing with family members and friends.
Please know you'll forever be in our hearts and thoughts.  And save us one of your black walnut brownies, okay?
Thanks for reading Dean Riffs. Welcome to all those who love American liberty, free enterprise, and who believe God has blessed our country.  For those who don't, God bless you but there's nothing here for you to see. 
Copyright 2019, Dean A. George©