Maybe Alexandria Occasionally- Conscious thinks she's helping create shovel ready jobs, but every week she demonstrates again and again that she never knows when to stop digging.
The loquacious and polarizing acronym with two legs and a big mouth has spewed more nonsense her first six months in office than most congress critters utter their first two terms.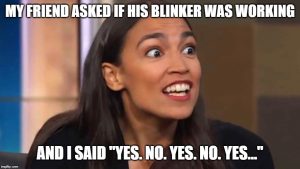 The latest from the woman who may have singlehandedly ended blonde jokes forever was equating detention facilities for migrants to "concentration camps."
"The United States is running concentration camps on our southern border and that is exactly what they are. They are concentration camps. And, um, if that doesn't bother you, I don't, I don't know, I like, we can have, okay whatever," she concluded in her typical kamikaze syntax.
She then doubled down on her ignorance and insensitivity to Holocaust victims by tweeting this: "And for the shrieking Republicans who don't know the difference: concentration camps are not the same as death camps. Concentration camps are considered by experts as 'the mass detention of civilians without trial.' And that's exactly what this administration is doing."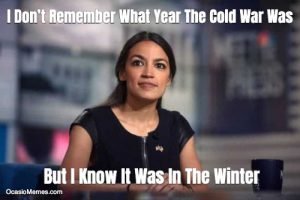 Let's talk about what the congresswoman who thinks the Electoral College should be tuition free is doing when she compares border security to concentration camps:
*She's insinuating the temporary incarceration of people voluntarily entering our country illegally before processing is the moral equivalent of shipping millions of people to their death in crematoriums for their faith.
*She's insulting the families of Holocaust victims and survivors with an analogy that's cruel and degrading.
*She's demeaning border patrol agents, customs officials and ICE agents by comparing them to Nazi guards.
*She's smearing the American people as callous and uncomprehending as to what's happening at the border.
*She's demonstrating yet again how obtuse and oblivious she is about history, language and the border crisis she has helped create because, like, she doesn't believe in like, borders, okay?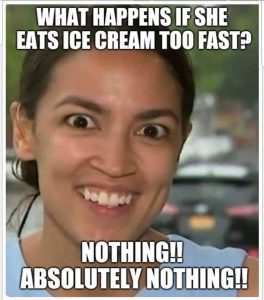 If ignorance of the difference between a detention center and a concentration camp isn't bad enough, the New York Congresswoman who's IQ test came back negative seems blissfully unaware that any mistreatment of migrant families at the border rests squarely at the feet of her own party.
House Republicans have tried 15 times this year to secure $4.5 billion dollars specifically to "feed and shelter migrant families and unaccompanied children, fund urgent medical care and transportation, and pay for growing overtime cost for DHS men and women on the frontlines."
Democrats have refused every time to provide the requested funding.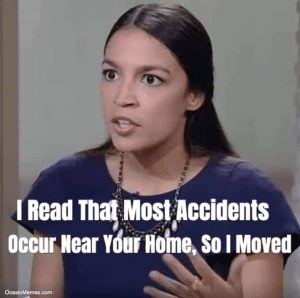 Memo to ACO:  Heaven has a wall and a big pearly gate, but hell is spacious and has open borders.  Just sayin'…
Thanks for reading Dean Riffs. Welcome to all those who love American liberty, free enterprise, and who believe God has blessed our country.  For those who don't, God bless you but there's nothing here for you to see. 
Sources: thefederalist.com, foxnews.com, townhall.com
Photo source: imgflip.com, ocasiomemes.com
Copyright 2019, Dean A. George©