It seems like just yesterday that Seattle was the crown jewel of the Pacific Northwest.  Now it's like a public outhouse with an evergreen scent.
Seattle isn't alone with what to do about their sidewalk doo-doo.  The city is still Number 2 to Scat Francisco in brownouts – so to speak.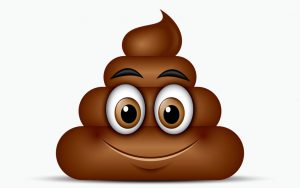 The first step in Alcoholic Anonymous' 12-Step program is to admit you have a problem.
No sh$%, Sherlock.  If you need a reminder, just check your shoes around Seattle's downtown courthouse at Third and James .
Seattle City Council members have admitted they have a serious poo miscue, but the obvious answer as to what to do about their doo-doo is being flushed down the commode of commonsense because of – wait for it – racism.
Seattle Council member Larry Gossett, who is black, opposes the idea of power washing street feces "because it brought back images of the use of hoses against civil-rights activists."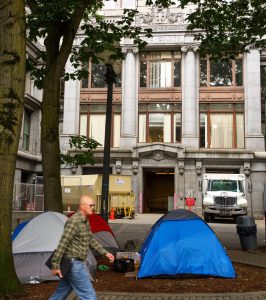 Let's recap:  Seattle is allowing the homeless and others with mental health issues to use downtown streets as personal open air toilets.  That's dumb.
Then the city avoids using the most obvious and efficient means of cleaning up the problem short term so as not to offend anyone from regrettable actions half a century ago.  That's dumber.
What could be even dumber?
Wasting time and resources on a plastic straw ban while requiring citizens to step around urine puddles and piles of feces on their way to and from work.
It's no wonder that famed psychiatrist Frazier Crane left for greener, less brown pastures.  Seattle and many Left Coast cities have gone bat guano loco.
Just say no to poopie streets, Seattle.  Here's a complimentary hashtag:
#StreetPoopingStinks
Thanks for reading Dean Riffs. Welcome to all those who love American liberty, free enterprise, and who believe God has blessed our country. 
Sources: The Gateway Pundit, Seattle Times
Photo sources: probioticdigest.com, Seattle Times
Copyright 2019, Dean A. George©