NEW YORK CITY – Peleton, the boutique fitness bike company, today announced plans for a new specialty bike designed especially for political enthusiasts.

The bike's name is a tribute to two-time Democrat House speaker Nancy Pelosi (CA). Like it's namesake, the Pelositon is destined to be one-of-a-kind.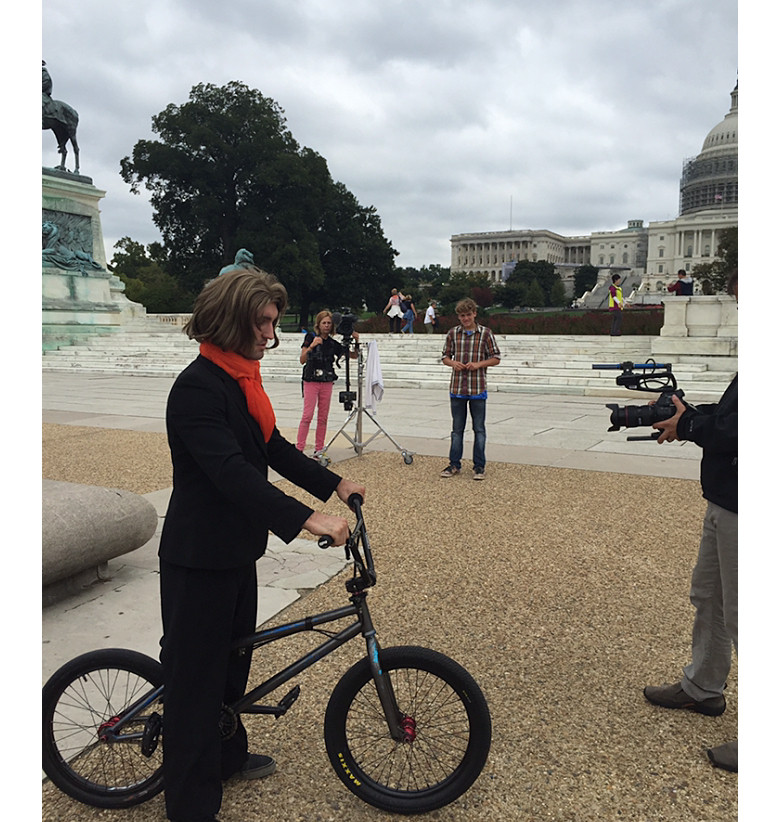 The Pelositon is the first fitness bike equipped with what Peloton calls "Stutter Step" pedaling.  The patent-pending Stutter Step feature mimics Speaker Pelosi's mesmerizing speaking style, including sudden braking, unexpected pauses and a torrent of hyperbolic activity.
Especially impressive is the Pelositon's first-of-its-kind backpedaling feature that challenges riders to go to the extreme by pushing themselves to adapt their pedaling tempo to whatever random challenge this devilishly clever bike throws at them.
Pelotron makes no apology if its constituents find the random backpedaling annoying because, like supporters of Speaker Pelosi, that's just part of the ride with the Pelositon. 
The Pelositon also comes equipped with career video highlights from the Speaker's many memorable moments, just three being:
Pelosi's infamous shredding on national television of President Trump's February State of the Union message;
Her recent show-and-tell with Late, Late Show host James Corden while thousands of businesses awaited SBA funding she was blocking;
The Speaker's handing out Trump impeachment pens at the outset of the COVID-19 pandemic.
A Pelositon Deluxe model comes with designer ice cream cup holders and a one-year free membership in Nancy's Decadent Chocolate Ice Cream of the Month Club – a $180 savings!
Thanks for reading Dean Riffs. Welcome to all those who love American liberty, free enterprise, and who believe God has blessed our country. 
Photo sources: Vital BMX, Donald J. Trump
Copyright 2020, Dean A. George©