Are you smarter than a frosh congressperson?
Four progressive congresswomen who believe their mandate is to continue the Obama legacy of "transforming America" are pushing their party so far to the left, it's in danger of reshaping the Democrat Party as a keto-free Cuba (low carb savings with lots of high fat government spending.)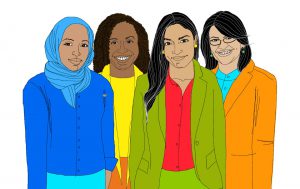 Affectionally labeled "The Squad" by the mainstream media and "The Squawk Squad" by real journalists, its members include: 
True or false: Minnesota Democrat Representative Representative Omar, who allegedly committed immigration fraud by marrying her gay brother, along with passport fraud, campaign fraud and tax fraud by claiming to be married to someone else while married to her brother, recently warned President Donald Trump, "I am fighting corruption in OUR country?"
True or false: New York Democrat Representative Alexandria Ocrisis-Catastrophe said this: "I think that there's a lot of people more concerned about being precisely, factually and semantically correct than about being morally right."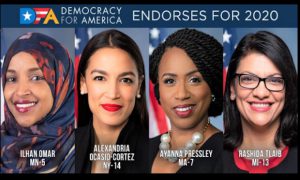 True or false: Michigan Dem Representative Rep Rashida Talib said this: "Concern for 'national security' has introduced unprecedented insecurity to living in the United States as a legal permanent resident." Translation: It's making illegals permanently living here illegally anxious.
True or false:  Rep Omar once referred to the 9-11 terrorist attack that killed 3,000 people as "something" that "some people did?"
True or false:  Rep Omar recently told attendees at a Philadelphia conference: "I believe, as an immigrant, I probably love this country more than anyone that is naturally born."
_____________________
Multiple choice: Michigan Democrat Representative Talib illegally listed her father's Detroit address on her candidate application, which according to her own father was a lie.  In truth Ms. Talib lives with her family in:
a) The Gaza Strip
b) The Serengeti
c) Dearborn
d) Tel Aviv
Multiple choice: Ayanna Pressley is Massachusett's first black female U.S. Representative and the newest member of the Squeak Squad.  What exactly is "The Squad?"
a) A quartet of women of color who thinks everything is all about them;
b) An amateur Capella group that likes to sing the blues and howl at the president whether or not there's a full moon;
c) Four elected representatives who are convincing registered voters that global whining is the biggest threat to American democracy;
d) All of the above.
Multiple choice: Who said the following: "Israel has hypnotized the world, may Allah awaken the people and help them see the evil doings of Israel?"
a) Louis Farrakhan
b) Joy Behar
c) Harvey Weinstein
d) Ilhan Omar
Multiple choice: Who recently said (ironically while standing in front of a mirror practicing their  "Squad" poses), "This is what racism looks like?"
a) The Average White Band
b) Alexandria Odoofus-Confirmed, Rashida "Palestinian Girls Just Want to Have #$%#! Fun" Talib, Ilhan "I Married My Gay Brother" Omar, or Ayanna "Diversity Diva" Pressley
c) The United Nations Human Rights Council
d) The Coca-Cola Polar Bear
Multiple choice: Which two people have a higher favorability rating than freshmen (er, salty freshwomen) Ilhan Omar (9 percent)and Alexandria Obother-Whatever (22 percent):
a) Loki and Thanos of the Avengers
b) Nancy Botoxi and Chuckles Schumer
c) Lex Luthor and The Joker of Justice League
d) Dr. Josef Mengele and Kermit Gosnell  
e) All of the above
The correct answers to today's true/false and multiple choice questions should be obvious to regular readers of this blog.  To those who are new to Dean Riffs, just choose the opposite answer of what is regularly reported on CNN and MSNBC.
Thanks for reading Dean Riffs. Welcome to all those who love American liberty, free enterprise, and who believe God has blessed our country. 
Sources: USA Today, The Gateway Pundit 
Photo sources: grondamorin.com GOPUSA.com, theguardian.com
Copyright 2019, Dean A. George©