Dimwits, dolts or dullards? Take your pick and pin the tail on the donkey of the Democrat leadership, The Squad,  and the party's 2020 train wreck of presidential political candidates.
Left Losing It #1  Teen Swedish weather cultist Greta Thunberg recently addressed a UN Assembly to discuss climate change and proceeded to acid rain on the gathering's parade by blaming and threatening international leaders for not doing enough on climate change.
Other than lambasting world leaders for their selfishness and greed, young Greta was a sweetheart.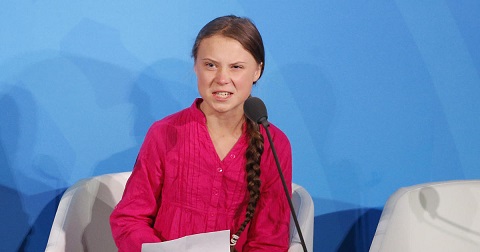 At one point during her speech she whined, "This is all wrong.  I shouldn't be up here.  I should be back in school on the other side of the ocean."
On that point we agreed; she shouldn't have been there. She should have been in school.  Studying real science.  And Adam Smith's The Wealth of Nations.
According to the 16-year-old Swede whose challenges with Asperger's Syndrome, obsessive-compulsive disorder and attention deficit disorder are well documented, "You have stolen my dreams and my childhood with your empty words.  How dare you!"
She concluded her "pep talk" with these foreboding words:
"We will not let you get away with this.  Right here, right now is where we draw the line.  The world is waking up.  And change is coming, whether you like it or not."
Using a mentally-challenged teenager schooled on junk science for the purpose of overthrowing the world's best economic system, and bullying people into submission, is like strapping explosives to Palestinian teens, encouraging them to blow up Jews and then applauding their commitment to population control.
Left Losing It #2
In Episode #478 of the Democrat Impeachment Chronicles the wayward party of Jefferson struck on a new strategy to get Orange Man Bad: use a faux whistle blower to accuse him of colluding with a foreign country to provide dirt on a campaign opponent.
And surprise – the foreign country wasn't Russia.  That's a new wrinkle.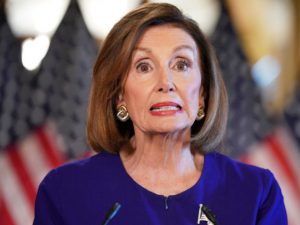 The Deep State's latest scheme was working well until it was learned that:
The whistleblower wasn't in the room during the president's phone call
The whistleblower hadn't seen the transcript of what was said during the president's phone call until it was made public
The whistleblower is believed to have

worked for the CIA

The

whistleblower's attorney

had worked for both Chuck-it-All Schumer and Hillary Clinton
The whistleblower's

lead attorney

had contributed to hair sniffer Joe Biden's presidential campaign.
But it gets better.  Nancy Pelosi announced Sept 24 the Democrats were doing a remake of the Seinfeld show – they planned to launch an official impeachment inquiry based on nothing.
Pelosi pulled the trigger on the Democrat impeachment gun before seeing the transcript of the president's phone call, without seeing the Inspector General's report, without hearing from the whistleblower, without questioning a single witness and – without any credible evidence of an impeachable offense.
At last count 220 Democrats and one independent support impeaching the president.  For what offense?
Asking the newly-elected Ukrainian president for his country's help in investigating their country's interference in America's 2016 presidential election and former Vice-President Joe Biden's threat to withhold one billion dollars of U.S. aid to keep his son from being prosecuted in a corruption probe and maintain his $50,000 monthly income.
Time will tell, but the smart money is saying the impeachment shoe is on the wrong party's foot.
Sources: NPR, Bloomberg Markets and Finance, The Federalist, The Gateway Pundit, New York Times
Photos courtesy of: Black News Zone, Breitbart
Thanks for reading Dean Riffs. Welcome to all those who love American liberty, free enterprise, and who believe God has blessed our country. 
Copyright 2019, Dean A. George©