Welcome to Dean Riffs' Week in Review. Every weekday our panel of non-partisan judges (me) pick two or three weekday news items on which to comment – after careful pontification, of course. We riff responsibly here.

MONDAY, JANUARY 8
Dead white poet Alexander Pope wrote, "Hope springs eternal," and after Oprah Winfrey's powerful speech at the Golden Globes Sunday night, many liberals are hopeful that "Hoprah" will lead Democrats out of the political wilderness.
Winfrey was honored with the Cecil B. DeMille Award and in her speech mentioned civil rights, the faddish #MeToo movement and led the Hollyweird faithful in a rousing chant of, "Their time is up!"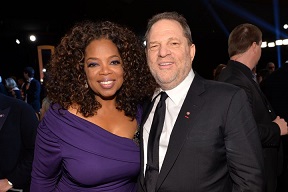 She ended her emotional speech (with progressives it's always about feelings) with this sage observation: "A new day is on the horizon."
Meh. Last I checked new days come and go daily – regardless of who sits in the Oval Office. It has something to do with earth's rotation and the sun.
Naturally the political left went gaga over her address and immediately Twitter was atwitter with hashtags like #Oprah2020 and #OprahforPresident. No wonder the country has an Oprah-oid crisis!
I can hear it now. If she is the Democrats' nominee in 2020, those opposing her will not only be racist, but sexist as well.
I'm hoping the Dems will one day nominate a one-legged, transgender, bi-sexual, pro-abortion, Islamic vegan so I can hear that I'm a special needs hater, gender phobic, homophobic, Islamophobic, anti-vegan, anti-choice, knuckle-dragging troglodyte.
Also on Monday, fallout continued from the fire and fury from author Michael Wolff's book, The Fire and the Fury. Naturally those who hate Trump love the book, and according to Amazon customer reviews many of them bought it just because the President tried to have his legal team block its publication.
Here's the interesting takeaway: Wolff acknowledges that several of his sources were lying to him, but he included their comments anyway "allowing the reader to judge" whether the sources' claims are true.
In other parts of his salacious tell-all he used his "journalistic judgment" and research to describe "a version of events I believe to be true." He also admitted in subsequent interviews that he did not interview a single White House Cabinet official.
Well gee, who wouldn't plunk down money for a book written by a guy that admittedly doesn't believe his own sources and questions his own conclusions but insists readers buy the book to decide for themselves about Trump's mental acuity.
In an interview in Monday's London Daily Mail, Wolff was quoted as saying, "100 percent of the people around Trump question his intelligence and fitness for office."
So in addition to writing a trashy, gossip-filled book full of unchecked facts, half-truths and imaginary occurrences, apparently Mr. Wolff can't do math either.
In sports, the Alabama Crimson Tide rallied from a 13-point second half deficit in the College Football Playoff National Championship game to beat the Georgia Bulldogs, 26-23 in overtime. Monday's win was Alabama's fifth national title in nine seasons.
No player for either team was seen taking a knee during the playing of the national anthem, despite the overt presence of the President. In another example of white privilege, Alabama head coach Nick Saban took home his sixth national title with Monday's win, but Alabamians of all colors didn't seem to mind.
TUESDAY, JANUARY 9
Today's top news story concerns work towards "a bill of love" that the president was calling for in a rare 55-minute televised DACA meeting held with both Republican and Democrat congressional leaders.
Just the thought of Democrats working with Republicans to craft a bipartisan immigration reform bill was enough to bring a tear to the eye of many "Dreamers" – specifically those idealistic dreamers who naively believe that the Democrats would ever agree to enhanced border security involving a wall, ending chain migration, the diversity lottery program and implementing E-verify.
Even more disturbing was watching the president say, "I think my positions are going to be what the people in this room come up with." And there was this gem: "If they come to me with things I'm not in love with, I'm going to do it."
Giving the president the benefit of the doubt, let's hope this is just a negotiating ploy. As a "the glass is half full guy," I'm adopting a wait-and-see approach to see how this all plays out. However, Laura Ingraham summarized the concern of many conservatives on her show The Ingraham Angle:
*Today we also learned that Google has added vetting for conservative publications in its search results. NOTE: the fact checks seem to apply almost exclusively to conservative sites under a heading titled "Reviewed Claims."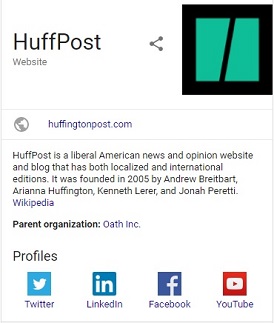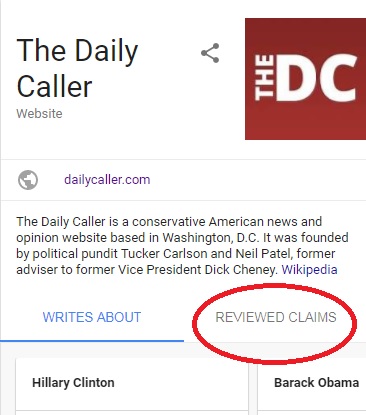 Conservative publications like The Daily Caller, Breitbart, The Conservative Treehouse, World Net Daily and The Daily Wire are tattooed with the Reviewed Claims display but liberal websites like Daily Kos, Salon, Vox, Slate and Mother Jones are not fact checked for accuracy in their content.
Apparently in addition to "fake news" and Michael Wolff's fake book, now thanks to Google we also have fake vetting and fake fact checking.
* UPDATE One week after we reported Google's vetting seemed to target conservative publications almost exclusively, Google suspended its controversial new "fact-check" feature after the facts seemed to point to their own company's bias and questionable objectivity.
WEDNESDAY, JANUARY 10
The One, aka, Barry Soetoro, aka, Barack Obama, famous former grass-roots organizer on Chicago's south side, continues to scale back plans for the Obama Presidential Center in Chicago after local residents objected to the original plan.
Grass-roots activists, conservationists and academics in Chicago have all expressed reservations to the Obama Foundation about the center, and academics at Obama's own stomping grounds at the University of Chicago have called it "socially regressive."
Charles Lipton, a political science professor at the university, says Obama is "indulging himself" by "building a monument along the lakefront."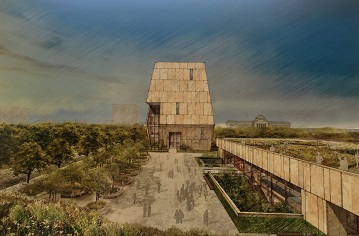 Complaints have ranged from locating the Obama Presidential Center on Lake Michigan as opposed to the Southside, to annexing 20 acres of Jackson Park, a popular urban city park on the National Register of Historic Places, to plans for a 450-space above ground parking garage.
The above ground garage is the latest part of the project to be shelved, when earlier this week the Obama Foundation agreed to move the garage underground so as not to take up an additional five acres on the historic Midway Plaisance.
Heck, I say scrap the center entirely and just build the garage. An empty underground parking lot would be the ideal symbol of the 44th president's two terms – just saying.
Also on Wednesday an estimated 100 U.S. immigration agents invaded dozens of 7-Eleven stores across the country searching for foreign invaders. Here's footage from one of the raids:
Just kidding. Agents did target about 100 stores nationwide in what portends a sharp expansion of immigration enforcement under the Trump administration.
"This is what we're gearing up for this year and what you're going to see more and more of is these large-scale compliance inspections, just for starters," Derek Benner told the Associated Press.
"It's not going to be limited to large companies or any particular industry, big medium and small," he said. "It's going to be inclusive of everything that we see out there."
Works for me. Liberals always whine about the need to be inclusive so there you go.
THURSDAY, JANUARY 11
Thursday some conservative media outlets were confirming what many have suspected: the FBI used the fake Russian dossier to obtain FISA warrants that allowed them to spy on the Trump campaign and the president-elect and his team.
This is huge news, and is the latest domino to fall in the fake Russian collusion narrative. Check it out:
1) Last fall we learned that it was the Clinton campaign and the DNC that hired the firm Fusion GPS to create the dossier.
2) Much of the information gleaned from the dossier originated from Russian disinformation created in the Kremlin.
3) FBI Assistant Attorney General Andrew McCabe confirmed in testimony last month before two congressional committees that the only part of the dossier the FBI had actually confirmed was a trip to Moscow by Carter Page, an unpaid and informal advisor to the Trump campaign.
4) The FBI is believed to have either paid for the dossier or reimbursed expenses for dossier author Christopher Steele.
5) Subpoenaed bank records have shown that Fusion GPS paid certain members of the media to promote and publish some of the dossier's unproven allegations to help create chaos for the Trump administration. Their names and employers will be named soon.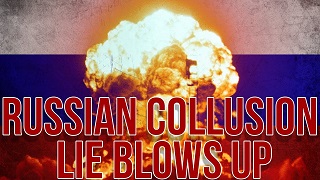 Add this all together and what does it spell? The Clinton campaign, the DNC and the FBI together worked with Russia to influence the 2016 election by using phony opposition research against first, a political opponent, and later, the president-elect of the United States.
If there was any collusion with the Russians going on, those pointing their fingers at Trump the past year were the ones doing it.
FRIDAY, JANUARY 12
Much of Indiana was in the throes of a winter storm warning this day, but it was President Donald Trump that was digging out from a s$#% storm of his own making a day after his latest Trumpian comment.
He managed to stir the PC pot yet again while meeting with senators about DACA when he reportedly asked why the United States would want people from "s$#%hole countries." Not the most prudent use of language, but…is that any worse than what liberals routinely say about their fellow Americans?
– Last week Robert DeNiro referred to the President as a f@!#ing moron" and a f@!#ing fool on TV.
– Hillary Clinton referred to half the country as deplorables.
– Barack Obama decried those who "cling to their guns and their religion."
– Black conservatives are frequently called Uncle Toms by liberals.
– Hillary Clinton routinely cursed at her Secret Service detail while First Lady and her security detail while Secretary of State.
– Last month liberal comedienne and talk show host Chelsea Handler referred to White House spokeswoman Sarah Huckabee Sanders as a harlot, a trollop and a whore. This past week she referred to South Carolina Senator Lindsey Graham as a homophobic slur.
– Former MSNBC talking head Ed Schultz referred to conservative talk show host Laura Ingraham as a right wing slut.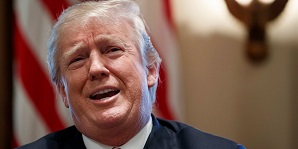 Geez, could Trump have been referring to the impoverished economic conditions, corruption and inept governance of countries like Haiti rather than the residents living in those countries? Of course he was, and those insisting otherwise are just creating a distraction from a booming economy, the successful passing of a tax plan that will put more money into the pocket of middle-class wage earners, and Trump's increasing popularity.
The Democrats don't want DACA to pass because that would cost them their most valuable campaign issue in November. It also means they would keep the status quo of illegals and their families pouring across our border while multiple immigration cases awaiting appeal weave their way through the courts.
Liberal hypocrisy is nothing if not consistent.
Thanks for reading Dean Riffs. Welcome to those who love American liberty, free enterprise, and who believe God has blessed our country. For those who believe in open borders, safe spaces, and who think free speech is hate speech, move on – there's nothing here for you to see.
Sources: businessinsider.com, washtimes.com, breitbart.com, dailycaller.com, newsmax.com, washingtonpost.com, cnn.com, thefederalist.com
Photo sources: ETCanada.com, chicago.suntimes.com, skiwikit.com, businessinsider.com
Copyright 2018, Dean A. George©