PAWTUCKET, RI – Hasbro, Inc. recently announced plans to sue the state of New York over Gov. Andrew Cuomo's new bail reform law.
Since Jan. 1 the state of New York has been allowing suspects accused of "non-violent" crimes to avoid jail without posting bail.  One alleged perpetrator had robbed six Chase banks in New York City neighborhoods between Dec. 30 and the time of this writing.
Each time he was released after what NYC mayor Bill DeBlasio called "involuntary withdrawals" from greedy, racist lending institutions.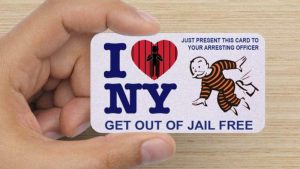 Hasbro, a toy, board game and entertainment company with revenues of $5.2 billion, is bringing the suit against New York for copyright infringement.
Specifically, Hasbro claims that the new bail reform law essentially constitutes a get-out-of-jail-free card synonymous with the company's classic board game, Monopoly.
"We feel we have no choice," said Hasbro attorney R. U. Legal.  "This new bail reform law is estimated to set free at least 20,000 criminals during the first year alone.  That's 20,000 people who may be scoping out Virginia Avenue, St. James Place or Marvin Gardens, surveiling houses and hotels – maybe even planning to rob the bank."
Named in the suit is the state of New York, Gov Andrew Cuomo and state Attorney General Letitia James.  Cuomo spokesperson Rich Azzopardi said Hasbro was free to take a chance and roll the dice by bringing suit, but he didn't expect they'd pass go and collect any damages.
Azzopardi added the state wasn't going to be "railroaded" into revoking the new law.
"Gimme a break," Azzopardi said with a dismissive gesture.  "It's not like Hasbro as a monopoly on the whole get-out-of-jail-free game."
Sources: nbcnews.com, foxnews.com, wnyt.com
Photo source: Yonkers Times
Thanks for reading Dean Riffs. Welcome to all those who love American liberty, free enterprise, and who believe God has blessed our country. 
Copyright 2020, Dean A. George©