Crossing a red line is as easy as crossing a "T" when there are no consequences.
If you are a Deep State member and never Trumper, crossing Republican mandated red lines without repercussions appears to be standard operating Deep Swamp procedure.
There have been two red lines crossed in congressional investigations the past five days. The first was when acting DOJ head Rod Rosenstein and FBI Director Christopher Wray blew off the latest Devin Nunes' request for materials (again) July 6.
The latest was last night (July 10) when former DOJ lawyer and text titan Lisa Page's lawyer announced his client would defy a congressional subpoena to testify before two committees today, July 11.
Freedom Caucus members and other Republicans expressed their usual outrage, but their playbook is getting old: Congress requests, demands and threatens, and those under suspicion respond with their usual chorus of crickets, smirks and snark.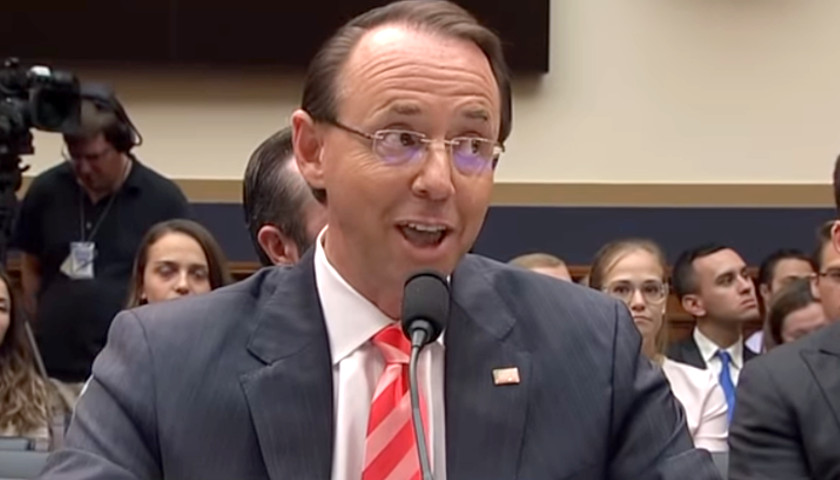 The House Intelligence committee under the leadership of California Rep Devin Nunes has done a tremendous job the past 18 months investigating Hillary Clinton's illicit email server, the Trump-Russia collusion hoax and other Obama administration scandals intended to disrupt the 2016 presidential election and the early days of the Trump administration.
But…
The committee's fumble of the latest "red line" diss by Rod Rosenstein, Christopher Wray and the DOJ should have been the straw that broke the jackass party's back.
Congress has specific oversight responsibilities over executive agencies and the power of the purse to back up those responsibilities.
Specifically, it has the power to hold those disregarding oversight efforts responsible by charging them with contempt and/or impeachment.
So why are there never any tangible consequences for professional procrastinators like Rosenstein, Wray and Peter Strozk when they disregard subpoenas, lie under oath and refuse to answer questions while hiding behind the camouflage of national security concerns?
Yes, the president has the power to declassify the documents Congress subpoenaed a year ago, but shouldn't Nunes and other Republican committee chairmen stand up for themselves and the country by exercising all of their powers enumerated in the Constitution before involving the president?
Such inaction makes the committees look feckless, impotent and unwilling to do the job they swore to do when joining Congress.
Failure to do so reflects badly on them as elected officials, Congress as an institution, and it does irreparable damage to America's critical rule of law.
For Congressman Nunes and other Freedom Caucus members like Trey Gowdy, Mark Meadows, Jim Jordan and Ron DeSantis, this summer is crunch time in the Deep Swamp trenches.
Threats of contempt and impeachment are only good options if you are willing to use them. Progressives and never-Trumpers are playing hardball, and for the good of the country we're encouraging all of you to do the same.
For God's sake and America's sanity, do something – anything – to hold those involved in attempting to discredit our duly elected President accountable for their illicit actions.
Sources: foxnews.com, thegatewaypundit.com, washtimes.com
Photo source: Tennessee Star, ru.fotolia.com
Thanks for reading Dean Riffs. Welcome to those who love American liberty, free enterprise, and who believe God has blessed our country. For those who believe in open borders, safe spaces, and who think free speech is hate speech, move on – there's nothing here for you to see.
Copyright 2018, Dean A. George©