Welcome to the inaugural edition of Dean Riffs' Week in Review. Every weekday our panel of non-partisan judges (me) pick two or three weekday news items on which to comment – after careful pontification, of course. We riff responsibly here.
MONDAY, JAN 1
The new year greeted much of the country with a bright, sunny smile – and a polar bear hug thanks to an Arctic weather front.
How cold was this latest climate change threat? Not cold enough for hell to freeze over, but it just might now that today marked the first day that transgenders could openly join the world's best fighting force.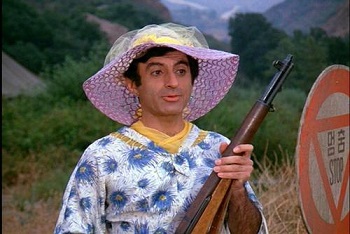 Transgenderism will now serve as the first "medical condition" mandatory for military enlistment centers to ignore when recruiting. Heart murmurs – no. Allergies -no. Bad feet – no.
But if you like to don women's clothing and pass yourself off as the opposite gender than what your natural plumbing indicates – go for it. Even better, unless President Trump issues a new directive to fix this travesty, now the U.S. taxpayer will have to pay for gender reconstructive surgery and recovery time.
So much for military readiness. And forget that Section 8 Max Klinger – in today's U.S. Army you can now be all you can be – and more!
In other news on New Year's Day, California joined commie-light playgrounds Oregon, Colorado, Washington state and that other Washington in legalizing marijuana for recreational use.
So now citizens of those Left Coast states and the Rocky Mountain Really High state can get high just for the fun of it while those states' pols get high on the tax revenue pot generates.
TUESDAY, JAN 2 
The president was all thumbs on his first day back at the White House following a Merry Christmas break at Mar-a-Largo. President Tweets-a-Lot fired off a total of 16 tweets January 2, including these three zingers:
1. Called out Clinton aide Huma Abedin, the "Deep State Justice Dept" and James Comey for their role in the see-no-evil Hillary Clinton email investigation.
2. Congratulated his long-time nemesis, "The Failing New York Times," for beginning a new chapter of their history with a new publisher (albeit the previous publisher's son) taking control of the Gray Lady.
3. Told North Korea's "Rocketman" that his (Trump's) nuclear button was bigger and more powerful than Kim Jong Un's. And it works!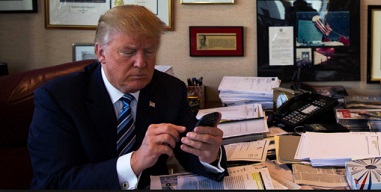 Naturally all this tweeting had the mainstream media all atwitter. The pen may be mightier than the sword, but since anything Trump tweets serves as a dog whistle for the left to go apoplectic, it appears tweets are bigger and more powerful than the pen. And they work!
In other tweets, Mad Maxine's favorite president paid homage to the Iranian people for their courageous acts of rebellion against the mullah regime and the world's largest terrorist state, self-congratulated himself on commercial aviation going a full year without an airplane fatality, and congratulated long-time U.S. Senator Orrin Hatch after announcing he would not seek re-election to an eighth term this November.
Speaking of Orrin Hatch, he is the longest Republican senator in history, having begun his first term in the Senate when Calvin Coolidge was president and Babe Ruth was playing for the Bosox.
WEDNESDAY, JAN 3
Wow! Valentine's Day is still six weeks off but apparently the on-again, off-again bromance between President Trump and former White House Chief Strategist Steve Bannon is kaput.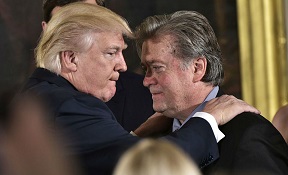 Bannon is Executive Chairman of Breitbart, the political right's version of The Huffington Post, but with better writing, reporting and sourcing. On this day excerpts were released on The Fire and the Fury, a new book by Michael Wolff to be released Jan 5 about Trump's tempestuous campaign and the early chaotic days of the administration.
In the excerpts several eyebrow raising quotes were attributed to Bannon. For instance, regarding Don Jr. and Trump son-in-law Jared Kusher meeting with Russian lobbyists in June, 2016 at Trump Tower, ostensibly to obtain dirt on Hillary Clinton:
"They didn't have any lawyers. Even if you thought that this was not treasonous, or unpatriotic, or bad s$#%, and I happen to think it's all of that, you should have called the FBI immediately," Bannon was quoted as saying.
Treasonous and unpatriotic were the wrong words to use, but Bannon was right about one thing: meeting with the Russian lobbyist was stupid because there's enough dirt available on HRC just by Googling "Hillary crimes." You can also check out the Facebook page entitled, Bleach-bit Bimbo.
Speaking of the arguably worst presidential candidate in American presidential history, the media was ablaze on the afternoon of Jan 3 with stories about a house fire at the Clintons' North Westchester "compound" in Chappaqua, New York. ("Compound" is what the locals and the Chappaqua Daily Voice newspaper call Casa Clinton.)
According to the local paper the Clinton's were not at home at the time and the fire occurred in a Secret Service facility not connected to the Clinton Castle.
When asked about the source of the fire, Hillary Clinton spokesman Nick Merril handed out copies of Senator Clinton's latest tome "What Happened" and swore on several copies of her book that boxes overflowing with empty Chardonnay bottles had absolutely nothing to do with the blaze the local fire department quickly extinguished.
On a personal note, the Indiana Pacers celebrated the new year by extending their season-long losing streak to five games by dropping a 122-101 away game to the Milwaukee Bucks.
Bucks superstar Giannis Antetokounmpo, aka The Greek Freak, torched the Blue & Gold for 31 points, 10 rebounds, and 5 assists before sitting out the fourth quarter to contemplate the works of Aristotle with some "platonic" friends online.
THURSDAY, JAN 4
A massive winter storm known as a bomb cyclone raged through the Eastern part of the country from the Carolinas to Maine. New England saw as much as a foot and a half of snow and Boston media reported the Atlantic Ocean had dumped ice floes and trash dumpsters through the city's streets.
A bomb cyclone, also known as bombogenesis, occurs when the barometric pressure drops 24 millibars in 24 hours due to warm air meeting cold air. This collision of competing air masses coupled with the earth's rotation creates a cyclonic effect.
For those who don't know a weather front from a Wingdings font, let's break down today's weather into a political analogy this first frigid week of January:
The cold air emanating from the Trump-Bannon split smashing into the hot air always flowing in Washington D.C., and the rise in temperature from the evidence of DOJ-FBI collusion with the Clinton campaign and the Obama administration to sabotage Trump's presidency, has created a massive constitutional crisis storm that promises to blanket much of the country for the next several months.
Also on Thursday the Dow Jones broke yet another record, exceeding 25,000 for the first time. Contrast that news with what fellow billionaire Mark Cuban and other "experts" said would happen if Trump won the presidency.  Doom. Disaster. An economic bombogenesis!
What does that tell you? Deplorables are better off trusting their own instincts and watching what the President is doing than what the chattering class says about what he is doing.
FRIDAY, JAN 5
Today we learned that an FBI investigation into the Clinton Foundation, long believed by many on the right to be a blatant money-laundering operation when Hillary Clinton was Secretary of State, resumed a year ago after temporarily being shelved in 2016.
In 2016 Justice Department prosecutors rejected a request from FBI agents in Los Angeles, New York, Little Rock and Washington to expand and intensify an investigation begun in 2015. Before Loretta Lynch's Justice Department shut them down, FBI agents from four different cities were looking at donations to the Clinton Foundation.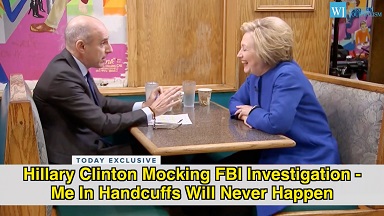 Thursday night The Hill's John Solomon broke the story that the initial investigation had been revived a year ago and the story was widely reported on Friday.
This latest investigation into Clinton is separate from FBI and congressional investigations into her illicit use of a private email server while serving as Secretary of State, her destruction of subpoenaed emails, computers and phones during that time, the FBI's questionable handling of the earlier investigation while James Comey was head of that agency, and the bureau's unusual action of granting immunity to everyone involved in Hillary's email fiasco – including her houseplants and any future Blackberry's.
Translation: its going to be a hot and uncomfortable winter for both Bill and Hillary Clinton, as well as for James Comey and many of the FBI and DOJ hierarchy in the Obama administration.
Maybe there really is something to this global warming stuff for true climate change believers!
Also Friday ESPN reported that tension abounds in the tight-knit new England Patriots' community. Seems trouble has been afoot in the hallowed halls of Gillette Stadium this season between quarterback Tom Brady, coach Bill Belichick and owner Robert Kraft.
The disagreements are sharp enough that rumors have it this could be the last season for the NFL's powerful triumvirate – even if the Pats win the Super Bowl.
In a word, what a "deflating" development.
Thanks for reading Dean Riffs. Welcome to those who love American liberty, free enterprise, and who believe God has blessed our country. For those who believe in open borders, safe spaces, and who think free speech is hate speech, move on – there's nothing here for you to see.
Photo sources: FanPop.com, Mediate, foreignpolicymag.files.wordpress.com, i.ytimg.com
Copyright 2018, Dean A. George©