Colin Kaepernick may have once been a NFL superstar quarterback, but since 2016 and his refusal to stand for the national anthem, he is better known as a dissenting American "satriot."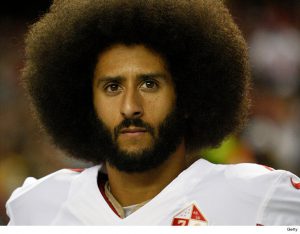 What is a "satriot?" A word I made up like Kaepernick and his ilk make up grievances.  A satriot is someone who think of themselves as an American patriot but they don't have a leg to stand on – so to speak.
In other words, they "sit out" from participating in any activity that may be seen as patriotic and celebrates America.
For example, standing for the Star Spangled Banner.  Or respectfully observing patriotic holidays like the Fourth of July that honor America and give us reasons to unite as one people.
Another example of satriotism would be wearing socks that portray police officers as pigs.
Kaepernick recently took an image association test and Dean Riffs was lucky enough to obtain the results of the only Scat Francisco QB to lose a Super Bowl.
When shown an image of thousands of people standing for the Star Spangled Banner, Krapernick said he saw,  "Police oppressing black people and other people of color."
Next Kraperniche was shown the original American flag consisting of 13 stars against a deep blue circle.  The former NFL QB who was benched after going 1-10 in his last season said he saw a racist symbol associated with slavery.
Considering Betsy Ross, the flag's creator, was a devout Quaker, no one will mistake Kap Kangaroo as an American historian.  Quakers openly opposed slavery and Ross was known throughout Philadelphia as a fervent abolitionist.
Finally, Colinoscopy was shown an image of former slave and famous abolitionist Frederick Douglass meeting with President Abraham Lincoln in the White House.
"Sellout," was the term Kaepernike used to describe Douglass. "Uncle Tom!" "Vanilla Ice wannabe!!" he spat out.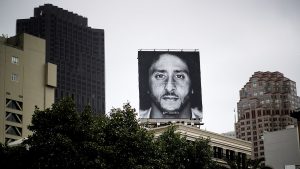 So here's the deal: Nike pulled a holiday-themed shoe featuring a nice image of Americana based on the subjective opinion of a social justice soldier whose sole branding strategy is controversy and grievance.
Where thousands of potential customers saw a nostalgic, patriotic special-edition pair of kicks,  many will now view the Betsy Ross flag pulled by "woke" Nike as a controversial symbol of racism and malice – thanks to Nike's multi-million dollar spokesperson who sees minority oppression and social injustice wherever he looks.
Nice job, colic Collin.
What will Nike and their whiny spokesperson do when neo-Nazis, KKK members or normal Americans who they like to call "white nationalists" wear the Nike swoosh,  the "Just Do It" shirts and assorted Nike sneakers out in public? Or God forbid, at a Trump rally!
Are they going to give those they disagree with millions of dollars in free publicity by crying foul over the misappropriation of Nike apparel?
It will be karma to see them freak out when the Nike shoe is on the other foot.
Thanks for reading Dean Riffs. Welcome to all those who love American liberty, free enterprise, and who believe God has blessed our country. 
Sources: breitbart.com, townhall.com, cbssports.com, csmonitor.com
Photo source: celebsiren.com, heatstreet.com, flipboard.com
Copyright 2019, Dean A. George©